Belfast Tourism Grand Opera House 
In the context of Belfast Tourism Grand Opera House has played a key part in entertaining many people across northern Ireland and beyond and continues to have a wide array of popular shows with lots of additional facilities and services such as a restaurant, café bar and venue hire for corporate hospitality, functions & events.  
It has wide and varied performances from comedy, song and dance and is particularly popular at Christmas with lots of Christmas shows for the family.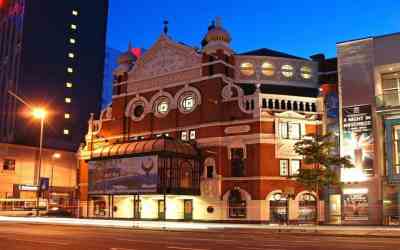 Image Copyright Albert Bridge;
Belfast Tourism Grand Opera House Shows
The Grand Opera House Belfast has delivered laughter, tears and applause since 1895 and is an important part of Belfast Tourism. Since opening its doors to the public for the first time more than a century ago, the Grand Opera House Belfast has played host to some of the biggest names from the world of entertainment.
In 1991 and again in 1993, the Grand Opera House Belfast suffered extensive damage following two car bombs . Major refurbishment work followed both bombs, including the addition of blast walls to protect the auditorium in the future. In a very public display of resilience, the Grand Opera House hosted the BAFTA awards on Sunday 14 September 1994.
The extension to the Grand Opera House Belfast opened in October 2006 with a gala performance. Built on the site where the Hippodrome Theatre once stood, the extension provided much needed hospitality facilities and lift access between the floors.
If you are in Belfast or Northern Ireland or indeed catching flights in to Belfast to stay here overnight then this could be an option for one of your places to visit in Belfast . Check the availability of shows with the link to their website just below here and remember that there is a nice place to have a meal.
So what many people do is get there a bit earlier so they can have a pre show meal and then relax and enjoy the evening entertainment!
Just click here at www.goh.co.uk and it will bring you straight to the Grand Opera House, Belfast website.
---
Top to Belfast Tourism Grand Opera House
Home to Uniquely northern Ireland 
---