Counties of Ireland-Armagh:
Land of Saints and Scholars.
---
In discussing the counties of Ireland-Armagh is another one of the northern Irish counties. Indeed it has has one of the cities of Ireland, Armagh city which was given city status in 1994 and has been an educational centre since the time of Saint Patrick. Thus it has been referred to as "the city of saints and scholars".
It has many tourist attractions and offers many things to do in Ireland if you are planning a vacation and want to see some of these sights. See below for tips on places to visit if you are planning your Ireland tours.
Counties of Ireland-Armagh
4 interesting Ireland Facts:
In terms of its part in northern Ireland facts it is one of six northern Ireland counties that form Northern Ireland (part of UK), situated in the north-east of the island of Ireland.

Adjoined to the south shore of Lough Neagh, the county has a population of approximately 174,792. 

Armagh is known as the "Orchard County" because of the number of apple orchards.

Armagh City Public Library was founded in 1771 by Archbishop Richard Robinson, who stocked it with his own library. 

It contains a first edition of "Gulliver's Travels" (28th October 1726) with annotations in Swift's handwriting.
Counties of Ireland-Armagh
3 more Ireland Facts:
Slieve Gullion is the highest point in the county at 573m. It is an extinct volcano

 with a lake at its summit called The Calliagh Birra (or Lake of Sorrow).

Road Bowls is played in Armagh, Cork and some parts of the USA. It is played on country roads, 

usually on a Sunday afternoon.

Master McGrath, pronounced McGra, was owned by Lord Lurgan. He won the Waterloo Cup three times, in 1868, 1870 and 1871. He died in 1872 at the kennels at Brownlow House. When a post-mortem examination was performed, 

it was found that his heart was twice the size that was normal for a dog his size. He is honored in Lurgan.
Counties of Ireland-Armagh:
Slieve Gullion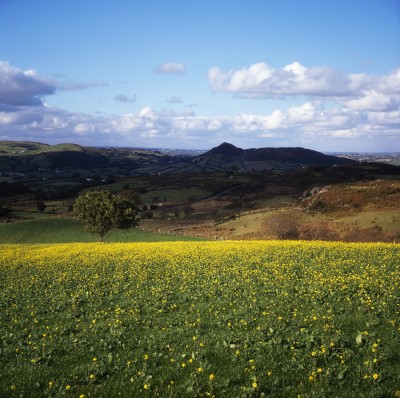 Slieve Gullion is a mountain in the south of County Armagh, northern Ireland. The Slieve Gullion mountain is the heart of the Ring of Gullion and is the highest point in the county. There are numerous forest walks or you can take the eight mile drive around the southern and western slopes of the mountain, stopping off at various look-out spots to take in the views.
Slieve Gullion won a tourism award in 2013 and is a beautiful place well worth a sightseeing visit.
Counties of Ireland-Armagh:
St. Patrick's Cathedral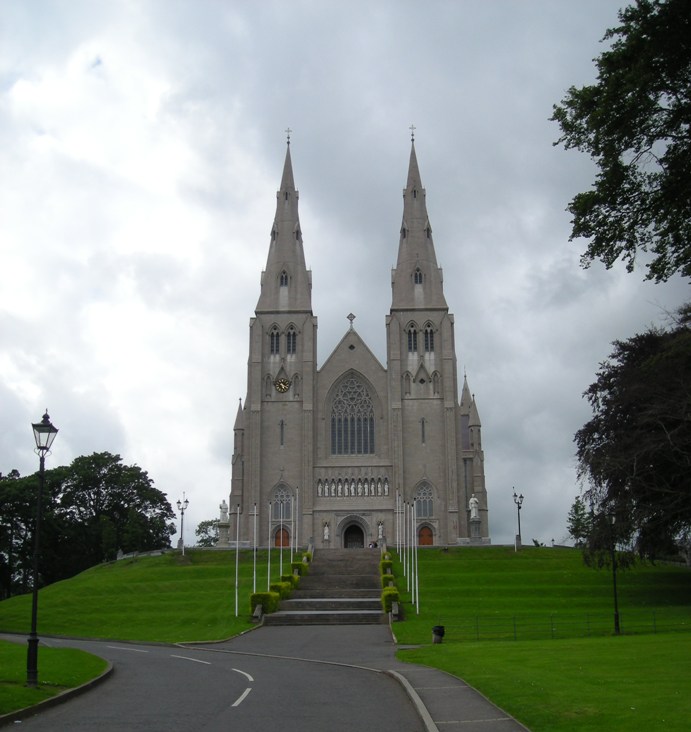 The famous twin spires overlooking the city are very imposing and the Armagh cathedral was founded in 1840. Words can not really explain how beautiful the cathedral is. The whole area with rolling Irish hills and views of County Armagh is breathtaking apart from Armagh Cathedral itself.
An interesting part of Northern Ireland facts is that the city of Armagh is the only city in the world which has two cathedrals, both dedicated to Saint Patrick.
Counties of Ireland-Armagh:
Navan Centre and Fort
If you visit Navan Center and Fort, be prepared to be whisked back to the Iron Age, as guides take you through an Iron Age settlement. You will learn about laws, ways of cooking, and farming. You will love the living history.
Counties of Ireland-Armagh:
Tayto Crisps Factory
A crisp factory built in a castle one of our much loved crisps!
The Tayto Crisps factory in County Armagh is a hidden gem that will be very informative and a very interesting tour of a working crisp factory. From the storage, cleaning and preparation of potatoes through to the cooking, flavouring, bagging and shipping the full functions of the factory are explored. 
Unlike many other similar tours  you make your way through the Tayto Crisps factory dodging fork lift trucks, past production lines, bagging machines and packing robots and also the large number of staff that work there!
Counties of Ireland-Armagh:
Other scenic sights
Have fun making, learning and expoloring space .... enjoy making your own space ship!
County Armagh Public Library is one of the great hidden architectural masterpieces of Europe.You will want to go back just to enjoy the atmosphere. So many hidden gems in the collection like Gulliver's travels but what really makes the Library stand out is the marvellous help from the Carol and Lorraine.
St. Patrick's Trian, County Armagh
This is situated in the historic heart of the city , Marian the tour guide will give an excellent tour and insight in to the history of Armagh City. The Gulliver's Travels display will capture the imagination and the interactive museum of Armagh history just fantastic.
For further information just contact County Armagh Tourist Centre at 40 Eglish Street Armagh t: 028 3752 1800  
Armagh GAA is the proud holder of an All Ireland GAA title won in 2002 and 7 Ulster Senior Championship Titles . To find out all about County Armagh GAA click www.armaghgaa.net
For Armagh GAA, Despite early success at provincial level, national success at junior and minor level and All-Ireland final appearances in 1953 and 1977, it took until 2002 for Armagh to win their first and only All-Ireland Senior Football Championship under manager Joe Kernan.
---
Top to Counties of Ireland-Armagh
Return to Counties of Ireland Home
Home to Uniquely northern Ireland
---