Counties of Ireland-Donegal:

A truly special place to escape!
---
In the 32 counties of Ireland-Donegal with its sandy beaches, unspoilt boglands and friendly communities,  is a favourite destination for many travellers. The population of the county is around 160,000 people.
It has many tourist attractions if you are planning a trip to Ireland. See below for tips on places to visit if you are on travel to Ireland and want to visit one of the most northern Ireland regions.
Along with its many things to do in Ireland it is also famous for its Tweed. 
Counties of Ireland-Donegal:
4 interesting Ireland Facts:
County Donegal has borders with four counties: Leitrim, Derry, Tyrone and Fermanagh. 

The latter three are northern Ireland (UK) counties. 

Mount Errigal is the tallest peak at 749m and is located in the Derryveagh Mountains. 

Derryveagh Mountains make up much of the Donegal area and are the major mountain range in the county.

The Inishowen Peninsula is 26 miles in length and its greatest width is about 26 miles 

and has an area of about 309 sq miles.

Glenveagh National Park is in the northwest of the county and it has an area of approximately 16,000 acres. 

The area was a private deer forest before becoming a national park in 1975.
Counties of Ireland-Donegal:
4 more Ireland Facts:
Donegal Tweed
Donegal tweed is a handwoven tweed manufactured in County Donegal, Ireland. Donegal has for centuries been producing Donegal tweed from local materials. Sheep thrive in the hills and bogs of Donegal common also to many counties of Ireland, and indigenous plants such as blackberries, fuchsia, gorse (whins), and moss provide dyes.
Maybe on your trip to Ireland you will pick up a Donegal Tweed Cap or a Donegal Tweed Jacket!
Counties of Ireland-Donegal:
Glencolmcille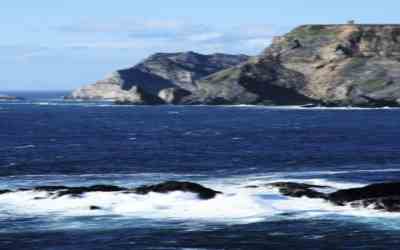 Image credit:
designpics/123RF Stock Photo
;
Tucked into the rugged landscape of Southwest Donegal, Glencolmcille is a joy to visit at any time of the year. Both shore and Glencolmcille hills change dramatically with the seasons.
At night some of Ireland's leading musicians play in quiet pubs and accomplished singers draw on an extensive repertoire of local song. Bring your dancing shoes on your way to Glencolmcille!
Counties of Ireland-Donegal:
Glenveagh National Park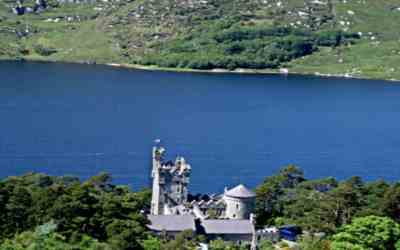 Image credit:
zahler/123RF Stock Photo
;
Glenveagh National Park lies in the heart of the Derryveagh Mountains in the North West of Co.Donegal. It is a remote and beautiful wilderness of rugged mountains and pristine lakes. Take a tour of Glenveagh Castle in Glenveagh National Park or walk in the magnificent themed gardens and rich collection of trees and shrubs from around the world.
Just beyond Glenveagh National Park , Dunlewey Lakeside Centre is situated on the shores of Dunlewey Lough in the shadow of the haunting and mysterious Poison Glen. Step back in time to the homestead of a famous weaver, Manus Ferry, and hear local tales on the boat trip.
Attractions include: Restaurant & Tea Room,Craft Shop, Adventure play area, Historic homestead guided visit, Tweed weaving demonstration, Audio-Visual show on Dunlewey , Lakeside walks,Boat cruise on Dunlewey Lake, Farmyard Animals to feed, Pony & Trap, Traditional Music.
Counties of Ireland-Donegal:
Slieve League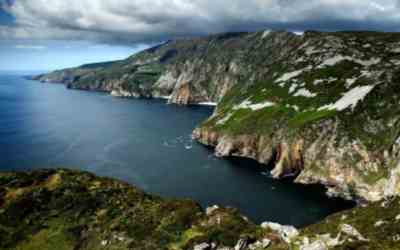 Image credit:
bartkowski/123RF Stock Photo
;
The highest cliffs in Ireland and the second highest in Europe are to be found in County Donegal, Ireland. These are fast becoming one of the most popular tourist destinations for visitors to Ireland.
The Slieve League cliffs which plunge into the wild Atlantic Ocean to calm and sheltered tidal inlets are a sheer wonder of nature. Fall in love with the landscape that inspired W.B.Yeats!
Counties of Ireland-Donegal:
Inishowen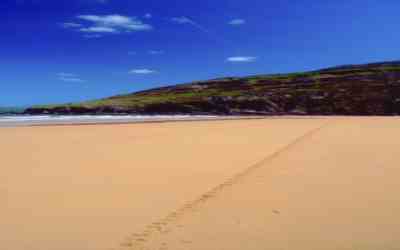 Image credit:
designpics/123RF Stock Photo
;
Inishowen is often referred to as Ireland in Miniature. It is a land of delightful contrasts roaring ocean deserted beaches and bustling market towns.
One great way is to follow the 100 mile route called the "Inishowen 100" (passing through Malin Head, Ireland's most northerly point) and which is well signposted.
Malin Head, Co Donegal is Ireland's most northerly headland on the Inishowen Peninsula, County Donegal can offer the intrepid traveller the very best by way of scenery, fresh air, flora and fauna. Inishowen is some two hours by road from Belfast and a four hour trip from Dublin and Shannon.
Castles in Ireland:
Donegal Castle
Donegal Castle is a castle in Ireland situated in the centre of Donegal town.  The castle was almost fully restored in the late 1990s.
The castle consists of a 15th-century rectangular keep with a later Jacobean style wing. iT  is sited on a bend in the River Eske, near the mouth of Donegal Bay, and is surrounded by a 17th-century boundary wall. 
The castle was the stronghold of the O'Donnell clan, Lords of Tír Conaill and one of the most powerful Gaelic families in Ireland from the 5th to the 16th centuries.
Counties of Ireland-Donegal:
Other Popular County Donegal Ireland Sights
| | |
| --- | --- |
| | Assarancagh waterfall, near Maghera beach, County Donegal. |
Image credit:
phbcz/123RF Stock Photo
;
Donegal Town, Bundoran, Ballyshannon, Rossnowlagh 
Donegal town has a truly picturesque setting where the River Eske flows thorugh on its way to Donegal Bay. There is much to do in Donegal Town including lively pubs, restaurant, music sessions and festivals.
Close to the town centre of Donegal, Donegal castle has been restored as a visitor attraction. It was built in 1505 by the O'Donnell family.
The picturesque seaside town of Bundoran is an excellent destination to go for a fun date out from the family.Take the kids for a splash at Ireland's premier indoor acqa adventure playground, Waterworld, while you pamper yourself at the seaweed baths and wellness centre!
Ballyshannon is one of Ireland's oldest towns and is a centre for arts and culture with the famous Rory Gallagher International Festival in June and the Traditional and Music Festival in early August.
Many have had a memorable caravan holiday in Rossnowlagh filling their day on the beautiful beach  that is now a mecca for the world's surfers. Drop up to Smugglers Creek Restaurant and Bar overlooking the beach for stunning views of South West Donegal on a fine day. 
Counties of Ireland-Donegal:
Killybegs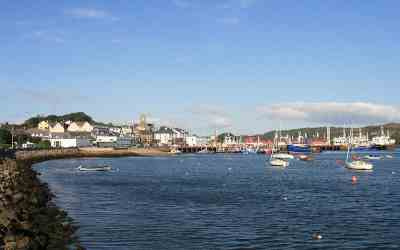 Killybegs is Ireland's largest fishing port and one of the most important in Europe.
Counties of Ireland-Donegal:
Donegal GAA
The Donegal GAA senior football team are a major force in Gaelic football. Currently regarded as the best team in the sport, they play in the top division of the National Football League and Donegal GAA are the reigning Ulster and All-Ireland Champions.
Donegal GAA players comprised most of the 2012 All Stars Team of the Year, and every single nomination for the All Stars Footballer of the Year, ultimately won by Karl Lacey.
In addition, having been invited to assist the Celtic soccer team in Scotland, Donegal manager Jim McGuinness became the first Gaelic football inter-county manager to have been offered a role at a professional sports team abroad. 
Jim McGuinness
Jim McGuinness is a former Gaelic footballer and current manager of All-Ireland winners Donegal. Credited with devising "The System"—a style of play which has annihilated rival teams—Jim McGuinness's achievements are widely recognised,earning the admiration of, among others, the Celtic soccer manager Neil Lennon.
In addition, having been invited to assist the Celtic soccer team in Scotland, he is the first Gaelic football inter-county manager to have been offered a role at a professional sports team abroad. His services have also been sought by Premier League soccer teams
After guiding the Donegal U-21 football team to the 2010 All-Ireland U-21 Football Championship Final, Jim McGuinness was appointed manager of the Donegal senior football team.
His time at the helm has been a soaring success; he has overseen a Donegal team that has won two Ulster Senior Football Championship titles in two seasons and guided them to win the 2012 All-Ireland Senior Football Championship Final, the county's first appearance on Gaelic football's ultimate stage since 1992.
Donegal's victory in 2012 under Jim McGuinness's management was only Donegal's second All-Ireland Senior Football Championship win in more than 120 years.
Donegal Democrat
The Donegal Democrat is a twice-weekly local newspaper, covering County Donegal, Ireland. The paper was traditionally based in the town of Ballyshannon in the south of the county, but now has offices in Donegal Town (southern edition) and Letterkenny (northern edition).
The Donegal Democrat is the largest paper focused solely on County Donegal, and its current editor is Michael Daly. The paper was the only one published in south Donegal from the mid-twentieth century on, and so has gained a reputation of being the local paper of record for that part of the county.
Counties of Ireland-Donegal:
Bed and Breakfast in Ireland 
County Donegal Bed and Breakfasts are regulated and inspected by Ireland's Tourism Quality Services (look for the shamrock seal of approval), many operate outside the regulation system. Those without governmental supervision or approval are not necessarily worse than those stamped with the green shamrock. 
Across guest houses in Ireland a moderately priced B&B, the average cost for a room with private bathroom is roughly £35 sterling or €45 per person per night. Obviously, some B&Bs charge less than this, and some charge more!
---
Top to Counties of Ireland-Donegal
Return to Counties of Ireland Home
Home to Uniquely northern Ireland
---