Counties of Ireland-Tyrone
area
of outstanding natural beauty...
---
In the 32 counties of Ireland-Tyrone is one of the six counties of Northern Ireland (uk).
Adjoined to the south-west shore of Lough Neagh, the county has a population of approximately of 170,000 with its county town being Omagh.
The largest northern Ireland (uk) county County Tyrone has many tourist attractions and things to do if you are planning a trip to Ireland .See below for tips on places to visit if you are planning to do any Ireland tours.
Counties of Ireland-Tyrone:
5 Ireland Facts:
The centre of the province of Ulster is near the market town of Pomeroy, close to Omagh, County Tyrone.

Omagh holds the Ulster American Folk Park and commemorates emigration from Northern Ireland to America. 

Omagh replaced Dungannon as county town in 1768.

It shares borders with Donegal to the west and Monaghan to the south. It also shares borders 

with the Northern Ireland counties of Londonderry and Fermanagh.

Tyrone is the largest county in Northern Ireland. 
Counties of Ireland-Tyrone:
Ulster American Folk Park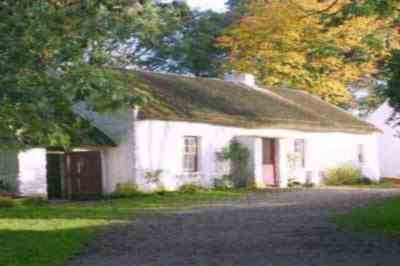 This park is an educational experience. Like many of our great treasure in Northern parts of Ireland it is massively under advertised.
It is a reconstruction of typical Irish homes in the 1600's depicting how people used to live and their emigration to America. Follow their journey from very poor Irish upbrings to what was deemed to be a better life in America.
Of the 40+ buildings to visit, as you Wander down the little village streets by far and away the most powerful is maybe the the first - a stone room/home of a poor Irish family complete with burning peat fire (actually working - an evocative scent) and Folk Park staff in period costume talking about life.
Definitely something different.
Counties of Ireland-Tyrone:
An Creagan Visitor Centre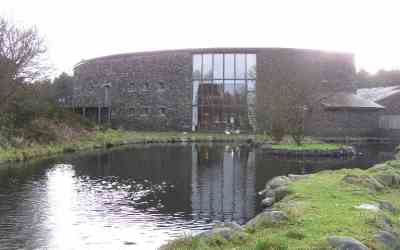 At the foothills of the Sperrins sits this multi-purpose Centre providing visitors and locals with a complete package of events, activities, accommodation and tourist information.
A licensed restaurant, bar, craft shop, conference facilities, children's play area and eight traditional, recently renovated four star self-catering holiday cottages are all available, making the Centre an excellent base from which to explore these vast uplands.
Counties of Ireland-Tyrone:
Sperrin Mountains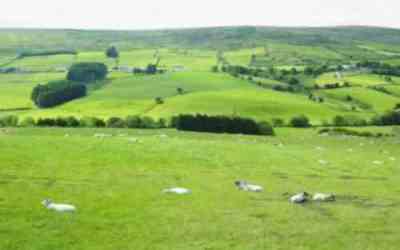 The Sperrins or Sperrin Mountains are a range of mountains in Northern Ireland and one of the largest upland areas in Ireland. The range stretches the counties of Tyrone and Derry-Londonderry from south of Strabane eastwards to Maghera and north towards Limavady.
This region of Tyrone Ireland has a population of some 150,000 and is a designated Area of Outstanding Natural Beauty.
Counties of Ireland-Tyrone:
Other County Tyrone Sights
LinenGreen Designer Village-The Linen Green Designer Village Moygashel, Dungannon
Go shopping for some of the greatest designer names in this whole new concept in retail, occupying a brilliantly refurbished linen weaving mill in Tyrone Ireland. The complex includes Paul Costello factory store, Anne Storey, Boudoir, Bedeck, Ulster Weavers Gift & Fabric Store, Foxford and many more. Moygashel Visitor Centre has an exhibition on the rich industrial heritage of the area. There is a range of coffee shops and restaurants available on site.
Tyrone Ireland Popular Towns
With some of the prettiest and colourful towns and villages in Northern Ireland, Tyrone is a beautiful sight to behold – Dungannon, Carrickmore, Caledon, Benburb – you're absolutely  guaranteed  a warm welcome in these parts and chances are you'll be tempted to stay for the great food and constant craic!
4 Elements Adventure-Main Street, Omagh, County Tyrone
We have just heard so many reports of great days out and great memories that if you want a wide range of outdoor activities where you may end up canoeing on Lough Erne in County Fermanagh or walking on a beautiful beach in Donegal then this could be your place!
The lead instrutor Mark and team prides on attention to detail, and specialise in tailoring packages to meet your needs. All you have to do is choose your adventure and let their highly qualified, motivated and enthusiastic instructors make your day one to remember!
For County Tyrone more infomation can be found at Flavour of Tyrone c/o Killymaddy Tourist Information Centre 190 Ballygawley Road Dungannon Co. Tyrone BT70 1TF .
Counties of Ireland-Tyrone:
Tyrone GAA
The Tyrone County Board of the Gaelic Athletic Association (GAA) or Tyrone GAA is one of the 32 county boards of the GAA in Ireland, and is responsible for Gaelic games in County Tyrone. The county board is also responsible for the Tyrone inter-county teams.
Tyrone have won three All-Ireland finals, from five appearances. They lost in 1986 and 1995, but won in 2003, 2005 and 2008. They reached the semi final of the 2009 All-Ireland championship but lost out to Cork.
Tyrone won their first Ulster Championship in 1956, defending it successfully in 1957. The last time they won was in 2010, that was their thirteenth. They have also won two National Leagues, in 2002, and 2003.
To leave this page and find out more about Tyrone Gaa click here
Mickey Harte
Mickey Harte is the current and most successful Gaelic football manager of the Tyrone senior inter-county team. He has led Tyrone to three All-Ireland titles, three Ulster titles, one National League. Considered one of the best tacticians in the game, Mickey Harte is admired.
Mickey Harte managed Tyrone Minors (1991–1998) and under-21s and won the All-Ireland with both these teams before he was named the Tyrone Senior Football Manager. He guided the under-21 team to two All-Ireland Under 21 titles and three Ulster Under 21 titles. He led the Minors to an All-Ireland Minor title and three Ulster Minor titles.
He subsequently managed his home club of Errigal Ciarán and was successful with this team as well, winning the Tyrone County Championship and Ulster Championship.
In more recent times Ulster Championship success has not come easy for Tyrone, having twice been knocked out by Donegal in 2011 and 2012. 
---
Top to Counties of Ireland-Tyrone
Return to Counties of Ireland Home
Home to Uniquely northern Ireland
---