Ireland-Golf-Packages-When is best time to go?
If you are thinking of booking Ireland-golf-packages-when is the best time to go? Golf on Ireland golf courses really starts in the main in Ireland from April through to October. Yes of course we play over the winter and just to keep us ticking over we have what is called winter leagues in most clubs.
So in saying that golf courses in Ireland are open and can be played all year round, weather and course conditions permitting so you could really plan an Ireland golf holiday at any time.
Though for most people they will plan their golfing trip between April and October which are the busiest months for Ireland golf courses and also visitors planning Irish golf trips.
You could of course plan your trip around the Irish Open Major Championship if you want to see our top professional competition usually in June or July each year on some of the best golf courses in Ireland.
To check options go to golfbreaks.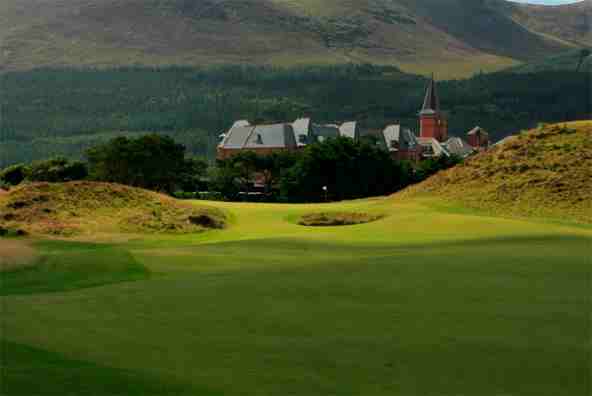 If we are looking at Ireland-Golf-Packages-when is the best Ireland Weather Forecast?
One sure thing is the weather in Ireland is warmer in the summer. Perhaps the best reason to go in summer is the daylight, which can last to 10:30 p.m. on the longest days. This makes it easy to play more than one round in a day.
If you decide to organise a golf travel package in Ireland in the winter months, December through March, note the average daily temperature can get quite low but unless their is snow golf courses are usually playable.
There's never a truly bad time for an golf holiday in Ireland. Unlike parts of America, most golf courses in Ireland, especially the seaside links, are open year round. That's because Ireland's climate is temperate, seldom getting extremely hot or cold.
One thing is that just because the weather in Dublin -eastern Ireland is sunny doesn't mean it is the same say as northern Ireland weather as Ireland weather can be totally different even though places are only a few miles apart.
The Atlantic Ocean is the dominant influence on Ireland's climate and moderates the weather so we neither experiences extreme cold in winter or extreme heat in summer. 
Rainfall
The general impression that it rains quite a lot in Ireland is not really true.When rain does fall the amounts are generally very low ranging from 1-2 mm. per hour. Heavier rainfall does and can occur.
For more detail on our seasons click here
Now one thing when you are here you may want to check out places to visit in Ireland and you Check for sights in northern Ireland counties.
Ireland Golf Trip Tips
So Summer can also be a good time for an Irish golf holiday and is the busiest season but it may be difficult to secure a tee time at certain courses if not prearranged. September generally the crowds have dissipated, the weather is cool and crisp, and there are excellent bargains on Ireland golf packages if you are planning an Irish golf holiday.
Ireland weather is impossible to predict and nearly as impossible to describe. There is simply no answer to the question 'What is the best time of year to play golf?' when asked in the context of weather. It could be any of the months from April to October and in any particular year any or all of these months could be fine and dry.
For more information on all things golf check out the Golf Home Page
---
Top to Ireland-Golf-Packages-When
Return to Ireland Golf Resources
Home to Uniquely northern Ireland 
---