Irish Airlines-Aer Lingus airlines and Ryan Air


Aer Lingus
Aer Lingus has played a big part of Irish Airlines history. It is the national flag carrier of Ireland. It operates a fleet of Airbus aircraft serving Europe, North America, North Africa and Asia.
It is Ireland's oldest airline, and its second largest, after low-cost rival Ryanair. 
Its head office is located on the grounds of Dublin Airport in Swords, Fingal, Ireland.
Formed in 1936, Aer Lingus airlines were a former member of the Oneworld airline alliance, which it left on 31 March 2007. While it is not part of an alliance, the airline has code shares with Oneworld, Star Alliance and SkyTeam members, as well as interline agreements with Aer Arann, JetBlue Airways and United Airlines. 
Aer Lingus airlines employs 4,000 people and in 2011 had revenues of €1.3 billion. Aer Lingus flew 9.5 million passengers in 2011.
Ryanair owns 29.4% of Aer Lingus stock and the Irish state owns 25.4%. The state had previously held an 85% shareholding until the Government's decision to float the company on the Dublin and London Stock Exchanges on 2 October 2006. 
Aer Lingus airlines as part of its Irish airlines history celebrated its 75th anniversary in 2011.
RyanAir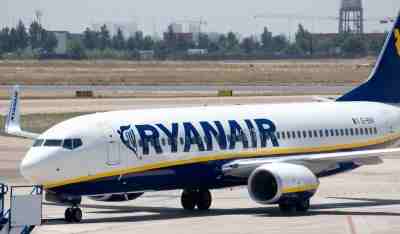 Image credit:
robwilson39/123RF Stock Photo
;
Ryan Air is an Irish low-cost airline. Its headquarters are located on the grounds of Dublin Airport in Swords, County Dublin, Ireland, with its primary operational bases at Dublin Airport and London Stansted Airports.
Ryanair flights operates over 300 Boeing 737–800 aircraft.The airline has been characterised by rapid expansion, a result of the deregulation of the aviation industry in Europe in 1997 and the success of its low-cost business model.
Ryanair flights have been subject to criticism of, among other things, its employment relations, its charging policies, its advertisements, and its customer service.
Since its establishment in 1984, Ryanair flights have grown from a small airline flying the short journey from Waterford to London into one of Europe's largest carriers. Ryanair flights now employs over 8,500 members of staff (2012) including over 1,200 pilots.
After the rapidly growing airline went public in 1997, the money raised was used to expand the airline into a pan-European carrier. Revenues have risen from €231 million in 1998, to €1,843 million in 2003 and €3,013 million in 2010. Similarly net profits have increased from €48 million to €339 million over the same period.
---
Home to Uniquely northern Ireland
---