An interview with......
Allan Wilson from 
livelessordinary.com
---
Allan Wilson from Northern Ireland had been visiting South East Asia since 2002 and in 2011 moved permanently to Bangkok. He has recently started his new website called and it grabbed the attention of Wanderlust when it won the Gold Award for Wanderlust Travel Blog of the year.
We caught up with Allan recently and he was kind enough to do a quick interview .....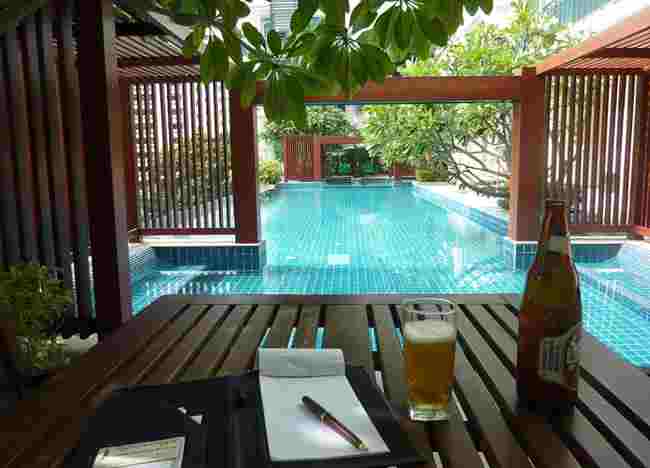 Photo courtesy Allan in his office!
Hi Allan, you have a new travel blog at www.live-less-ordinary.com. Can you tell our readers a little bit about yourself, when you moved from Northern Ireland and why?
Grey skies, politics and the inane drones of Stephen Nolan. The mind-numbing repetition of all three every day. Before living in Bangkok I wore a suit and worked a 9 to 5 in Stormont. I did this for four soul destroying years and was desperate to get out.
To be fair it wasn't Northern Ireland which pushed me away. It was the realisation of a much better lifestyle abroad which pulled me. Bar family there wasn't really much holding me in Northern Ireland. In 2011, I moved permanently to Bangkok and I now live the life I always dreamed of.
I have visited Southeast Asia on / off since 2002. It has always been an obsession of mine. In 2008 I bought a condo in Bangkok and after working my ass off to complete payments I now live here as a permanent address. It took cojones but was infinitely worth it.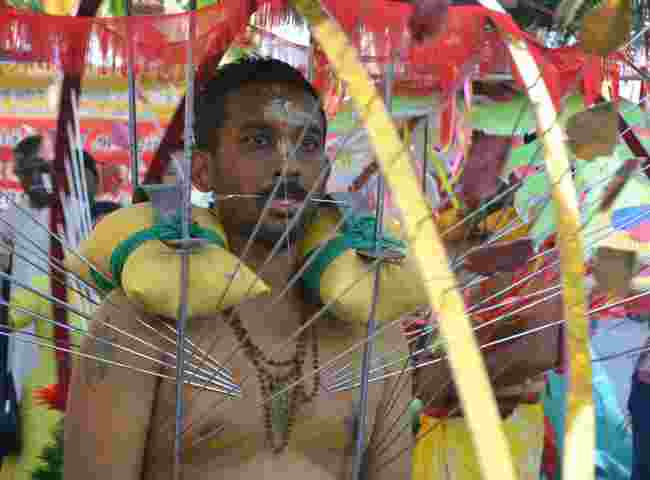 Photo South East Asia courtesy Allan.
Where did the inspiration come from to create your new travel blog and what is it all about?  Has it been difficult to pull it all together? 
I studied Tourism Marketing through distance learning (CIM) when first moving to Bangkok. Putting learning into practice I set up a boutique travel website and city guide for Bangkok. While it was fun creating the website I soon got bored of the service style of writing. This is when I started blogging and being more creative with writing. At the time my blogging was hidden in the back of the Boutique Bangkok website. I then created Live Less Ordinary so the content wouldn't be wasted. The new website covers food and travel in Asia.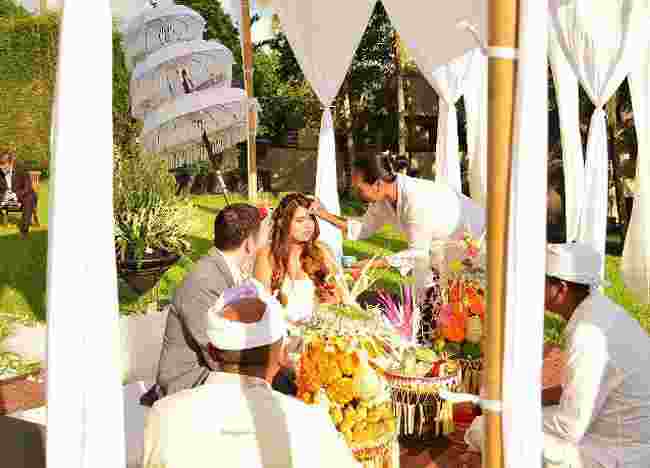 Photo courtesy Allan on his wedding Day.
Congratulations on your new married life we hear after an engagement in Ireland! and also even though your travel blog is new an outstanding achievement is you have just won the Gold Award for Wanderlust Travel Blog of the Year. What was it that the judges liked so much about your site? 
 "Enthusiasm, as well as the depth of information impressed the judges". I have my wife Fanfan to thank for this. I always credit her as co-blogger on my website. While she doesn't actually write blogs she does contribute in-depth local knowledge and deserves the kudos.
Live Less Ordinary was less than 2 months old when it won Blog of the Week with Wanderlust. I took it as a fluke, enjoyed a chuckle then went on living life expecting no more of it. When it came to Blog of the Year I didn't check the competition. I just presumed they were better than mine.
At the time there were three of us Bangor bloggers in the running with 52 blogs worldwide; fellow Bangorians Jonny Blair and Justin Egli. We had a bit of banter back and forth; none of us with any real expectations.
I was announced winner of Wanderlust Travel Blog of the Year. Complete shock. It was 1am at the time and I was in a Kuala Lumpur hotel. After gloating online I was straight out the door. I bought booze then sat watching Kuala Lumpur traffic while trying to wrap my head round what had happened. Still a little baffled.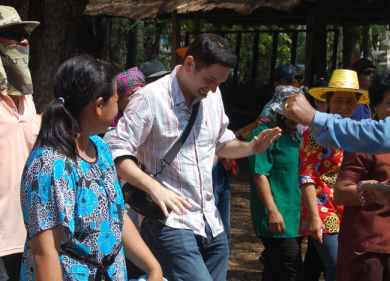 Photo courtesy Allan at Monks Ordination.
What would be in your plans for the future with the site after such a successful start? 
No plans. My website is a lifestyle blog following my personal lifestyle; living, eating and travelling in Asia. To change my website means to change my lifestyle. This is what scares me a little. Instead of controlling my website, the website will control me and my future plans. I don't mind change but I prefer to let my website evolve as I do.
Have you any special standout memories of your travels to date?
My wedding last month in Ubud, Bali. Unforgettable. For the month previous we travelled in Europe and Asia covering 8 countries, all dream locations of mine and Fanfan's. The ending was perfect. A marriage in magical Bali. Easily one of my favourite destinations on earth.  
 Are there any special tips about South East Asia you would give to readers thinking of travelling there? 
For tips check my websites. Best advice for travel in Southeast Asia is to get out of your comfort zone. Ignore apprehension and make the most of opportunities available. I like to get lost when I travel. See the places which others don't. These are the memories you take back with you. Not the touristic attractions pushed by mainstream tour operators. I strongly promote new tourism and boutique travel.
Anything else Allan before you head off? 
Hi Mum!
Well we hope Mum tunes in to read this and that you all found this an inspirational read from someone who is as the website says living a life less ordinary. For more information do visit Allans site today at www.live-less-ordinary.com.
We wish him well in his new life in Asia.
Thanks Allan!
---
Home to Uniquely northern Ireland
---