Northern Ireland Golf Courses.
---
Come to Northern Ireland golf courses for a great Irish golf holiday and play some of the great golf courses of Ireland. You will find cherished memories and golfing friends forever. This page is about our favourites although there are so many everywhere among Ireland golf courses.
If you are planning Ireland golf vacations and want to get an Irish golf holiday package on some of these golf courses try www.golfbreaks.com
Royal County Down-36 Golf Links Rd, Newcastle, Co. Down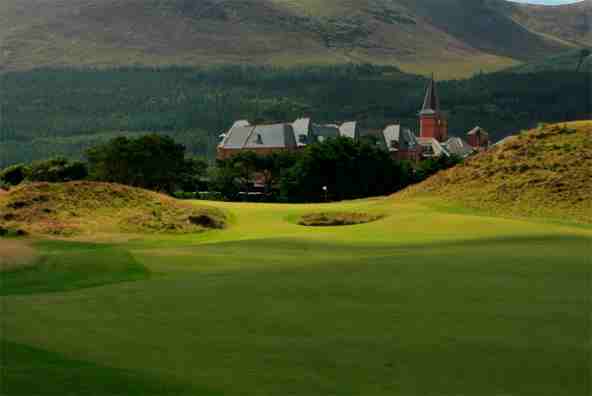 This is probably our favourite of all in Northern Ireland golf courses. It is not cheap but you will be walking on what is widely regarded as one of the best golf courses in Ireland if not in the whole world. It is a great test to play this famous golf course. There are many blind shots but the views are superb, the condition of the course is wonderful and it's a tough test. 
Do try keep it on the fairway, the rough can be tough!
Northern Ireland Golf Courses:
Lough Erne Golf Club-Belleek Road, Enniskillen, Co. Fermanagh
Images reproduced with kind permission from Lough Erne Golf Resort.
Lough Erne golf resort has nine holes hugging the shore and views over the water on almost every other hole. no one would disagree with Faldo who calls it; "one of Europe's - indeed the world's - most visually stunning golf courses."
The greens are impeccable, Darren Clarke describing them as; "Some the best I've ever played." Our own favourite hole is the par four tenth a great risk-reward -if you are a big hitter and want to have a go! the green which heads out into the lake is reachable.
Northern Ireland Golf Courses:
Royal Portrush, Dunluce Road Portrush, Co. Antrim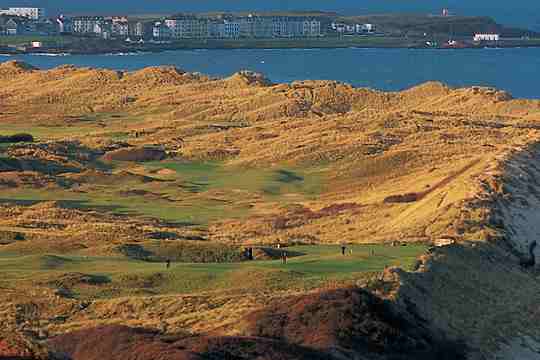 This is a seaside links paradise. Many golfers have portrayed Royal Portrush Golf Club Dunluce Links as one of the most challenging in the golf course world. 
Consistently ranked in the Top Ten courses in the World - Royal Portrush is a fantastic Northern Ireland golf destination and what better way to compliment your Ireland golf vacation than a round on of one of the finest and most famous golf courses in the World. It has just held the Irish Open in 2012.
It really is a tough test and you will have to drive well to score. Two of my favourite holes are the 5th hole down to the coast where the green is just about 50 feet above the shore and of course the famous Calamity. This is the 14th a 210 yard par three which a massive deep chasm leading up to the green. 
Northern Ireland Golf Courses:
Malone Golf Club, 240 Upper Malone Road, Dunmurry
Malone Golf Club was awarded best Parkland Course in Ulster by The Golfers Guide to Ireland.
On the outskirts of Belfast, the golf course, clubhouse and people create a golfing experience to remember. The layout of its 27 holes, the lake, the tree lined drive and the seasonal splendour of flowers and trees make Malone a special place to play golf. This is a peaceful parkland course in a beautiful setting.
The 18th is a memorable finish-sitting on a good score you think you are home but you are not as the 18th is very demanding!
Northern Ireland Golf Courses:
Ballyliffin-Glashedy, Inishowen Hotel, Main St, Inishowen, Co. Donegal
Ballyliffin Golf Club is rugged linksland at its finest and will provide a stern test for any level of golfer. Pride of place goes to the 7th and 14th holes, which area an absolute delight on every level. Both are par-3s and are played from tee boxes exposed to a constant buffeting by Atlantic winds and require masterful long irons to find the putting surfaces. 
The grass is golden (in the summer time obviously!) and the views are simply spectacular. A must play for any keen golfer, who can appreciate beautiful views and challenging course.
Northern Ireland Golf Courses:
Donegal Golf Club, Murvagh, Co. Donegal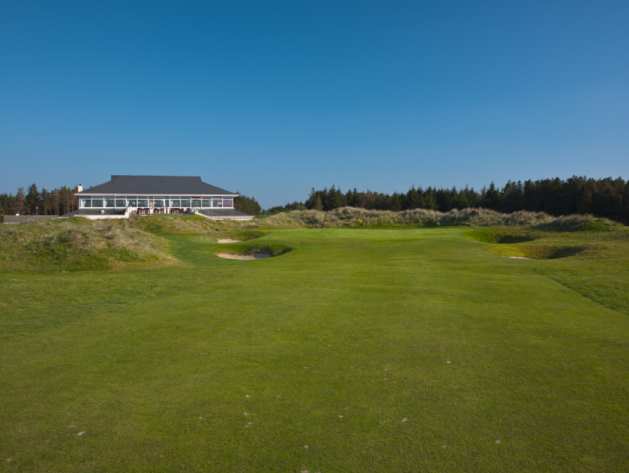 Currently ranked 18th in Golf Digest's Top 100 Golf Courses in Ireland. Their most famous Member is 2011 Open Champion Darren Clarke who has described Donegal Golf Club on the Murvagh Peninsula as "one of my favourite courses in the World".
This challenging Championship Links golf course occupies magnificent Murvagh peninsula in Donegal Bay, hence it is known locally as Murvagh. The course is isolated from the outside world by a forest of evergreens washed on one side by the great Atlantic Ocean and by Donegal Bay on the others. It has a panoramic view of the Bluestack Mountains and the beach that runs along the Atlantic border is one of the finest in Ireland.
It has two loops of nine holes, the first nine an outer loop and the second nine an inner loop running in the opposite direction. At nearly 7,300 yards (championship) or 7,000 yards (medal) this course is long. 
Northern Ireland Golf Courses
-Rosapenna, Sandy Hills
T: +353 (0) 74 91 55000

E: golf@rosapenna.ie
Sandy Hills golf resort is gaining an increasing reputation in our array of Northern Ireland golf courses that will take your breath away. It is a fantastic golfing destination. You will be encased between dunes from the first hole till the last. The scenery is stunning. Warm up well as the first few holes are pretty tough! 
Northern Ireland Golf Courses:
Royal Belfast-Station Road, Craigavad, Holywood
This is one of only a handful of courses to have the Royal prefix to its name the others including Royal Portrush and Royal County Down. It was designed by Harry Colt one of the leading golf course architects of his day. Trees, lush fairway and those three holes from 9 to 11 on the shoreline which make this a lovely parkland course in Belfast.
Northern Ireland Golf Courses:
Castlehume-Belleek Road, Enniskillen, Co.Fermanagh 

This is the neighbour of our Lough Erne Golf Resort. It was the first of the two to be completed. It is a parkland course situated in the heart of the Fermanagh lakelands. It is a testing challenge and you will play well to score. It is very different now to when it was first completed as the trees have never stopped growing! 
and finally in Uniquely's top nine Northern Ireland Golf Courses......
Ardglass-Castle Place, Ardglass, Northern Ireland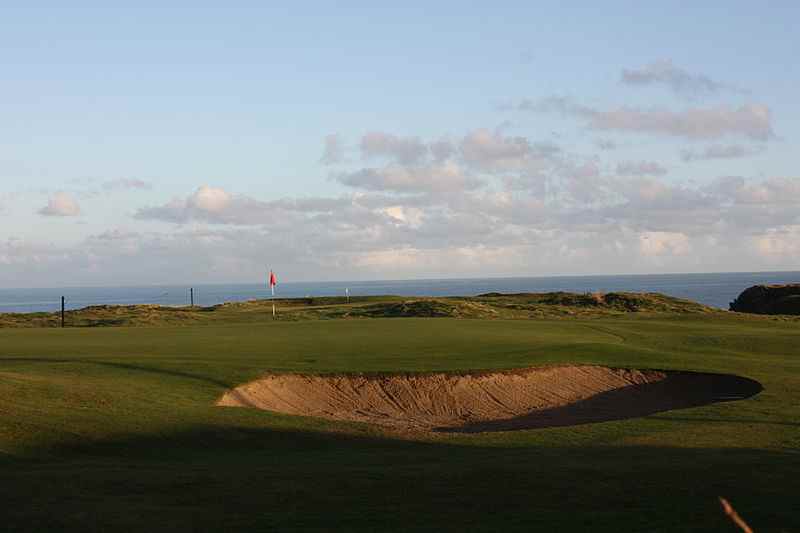 https:/commons.wikimedia.org/wiki/User:Ardfern
This is a must play course. Ardglass is I think one of the most picturesque courses and you would be forgiven for thinking every hole is a signature hole. Many people will play this and leave it thinking this is one of their top courses in Ireland. It is a very friendly club and do not leave Ireland without playing it. Stunning.
Hope you enjoyed these -there are many others in Northern Ireland and if you wish to put a package together now that you have a better knowledge try www.golfbreaks.com
---
Top to Northern Ireland Golf Courses
Return to Ireland Golf Resources
Home to Uniquely northern Ireland
---