Interview with.....


Ontheluce.com

at Titanic in Belfast
---
| | |
| --- | --- |
| | Lucy Dodsworth is a freelance editor, designer with a passion for travel and now runs the hugely popular travel blog, ontheluce.com . Having now travelled to 35 countries Lucy recently came to see Titanic Belfast. We were lucky to catch up and Lucy was kind enough to give us an interview about the trip..... |
Hi Lucy, Please take a moment to introduce yourself and tell us about ontheluce.com
Hi, I'm Lucy, a freelance editor/designer based in Cheltenham. I gave up my full-time London job 18 months ago after ten years in the city to have a more laid-back lifestyle and travel more. I started my blog about the same time, aiming to inspire other independent travellers who might not be in the position to travel long term but want to make the most of their travel time. I share my travel tips, tales and photos from a mixture of trips – from weekends around the UK and in Europe to more far-flung exotic trips.
What first inspired your passion in travel?
As a child our family holidays were mainly to Wales, Devon or Normandy in France. So I was 18 by the time I first did a long-haul trip, which was to New York. I was blown away by the city. It was a world away from my normal life in a small town in Herefordshire, with the smells, the bustle, the noise.
Everything looked so familiar though from films and TV shows – the yellow cabs, the steam coming up through subway grilles, the lights of Times Square, the hotdog stalls, the iconic buildings. Not long after that I travelled to Thailand as part of my degree and loved it there too, and since then I've been trying to see as much of the world as I can.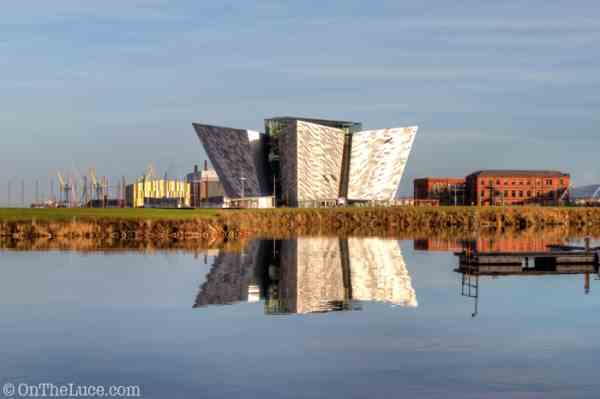 Photo of Titanic courtesy of ontheluce.com
Having visted 35 countries - of all the places, of all the people in your minds eye right now where would you like to be transported back to? 
That's a tough question! This year is the tenth anniversary of a big 16-month round-the-world trip I did through India, SE Asia and Australia. I've just been scanning in all the old photos and they're bringing back lots of good memories, so I think I'd be transported back then.
Ten years ago today I was in Nha Trang in Vietnam, relaxing on a white sand beach in the day and partying with a great group of friends at night. Not a bad place to be taken back to.
When you are planning trips how far in advance do you like to look ahead?
Usually I've got a reasonable idea of my travel plans for the next six months, so I can plan things around my work projects. I tend to book further in advance when I'm doing long-haul trips so I can look out for good flight deals and if I have a bit of free time I might squeeze in a last-minute trip. I love having something to look forward to so have to have at least one trip booked at any one time.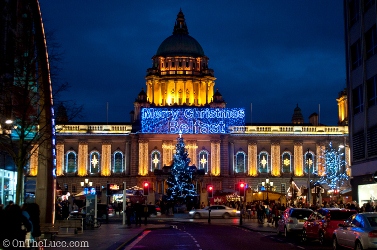 Photo of City Hall Market Christmas lights in Belfast courtesy of ontheluce.com
Do you travel for set number weeks each year and be at home for a number of weeks or is it totally spontaneous?
I work for myself so I get to be pretty flexible about when and how much holiday I take, as long as I work enough to pay for it! It does vary though. In 2011 I travelled for a third of the year, with some longer term trips like house-sitting in Paris for six weeks, renting an apartment in a ski resort for the winter and backpacking around Bali.
But then last year I bought a house so needed to do a lot more work to pay for it so did a few shorter trips. It's nice to be able to be flexible, though even when I had a full-time job I usually managed about 6 weeks a year worth of travel by adding a bit of overtime to my holidays and even took a three-month sabbatical.
You recently visted Belfast. What did you think of Belfast?

It's my boyfriend's birthday in December and we usually try to go away for a weekend to escape the pre-Christmas madness. Where we end up usually depends on what flight deals we can find so last year we found a good deal to Belfast. I'd never been to Northern Ireland and had always wanted to visit so it worked out perfectly. Despite it being mid-December we had some gorgeous sunny weather which made it even better and timed it to coincide with the Christmas markets which were great fun.
Titanic Quarter Beer-Photo courtesy of ontheluce.com
Any other stand out memories from your visit?
Part of my reason for wanting to visit was to see the Titanic exhibition. I'm always been fascinated with the ship's story and even have a little family link to it of my own – my grandmother worked for a doctor who was due to work on Tutanic but missed his train and the ship had already sailed. Titanic Belfast was fascinating, the stories from the people involved in building and sailing on Titanic really brought it to life. 

What is your next destination stop?
I just came back from a three-week road trip around the Southwest USA, travelling from Las Vegas through Utah, Colorado, New Mexico and Arizona. But I don't have long until my next trip as I'm off to Montenegro in three weeks. This'll be a new country for me that I don't know a lot about, and a whole new part of Europe as I've never been to the Balkans and have heard so many good things about the area. The after that I have plans to visit the Norwegian fjords and Italy later this year, and who know where else!
We hope everyone enjoyed the interview  and please do visit Lucy's travel blog ontheluce.com. It is a beautiful combination of travel stories, tips and gorgeous photos. We will be tuning in to hear how Montenegro goes.
Thanks again, Lucy!
---
Home to Uniquely northern Ireland
---